Research Page Chapter 5: California Gold
page 5
This Research page contains material which may not be included in my manuscript The Falkenburgs
An American Colonial Family: Chapter 5 California Gold. In There are two reasons this material does not appear in the manuscript. First, in an effort to manage the size of the book or the flow of the story, I decided that some details should be relegated to research notes. In other cases, I simply don't know all of the facts needed to make a coherent presentation. Those notes are found here. In many cases they are notes to myself and may not represent fully explored and documented fact. If you have navigated to this page from a Google search, and you have not seen my manuscript, you may wish to follow the link below for a more complete story of the colonial roots of the Falkenburg/Falkinburg family.
Link to manuscript: The Falkenburgs:An American Colonial Family
Link to Chapter 5: California Gold
(2.5) Nelson Falkinburg
Census Records for Nelson Falkinburg
Nelson is a member of the Society of California Pioneers. He is listed as arriving in California Aug. 6, 1849.

Note that the entry lists Nelson as captain of the steamer Cricket. His residence is given a 352 Third. Is this Third Street or Third Ave. From Mapquest, I feel it is most likely Third St. This would be between Folsom and Harrison. I need to check older SF maps.
A search for steamship Cricket produced the following:
Bethlehem Steel Company, San Francisco CA
. The site states "Bethlehem San Francisco was founded as Union Brass & Iron Works in 1849, by Peter Donahue, one of San Francisco's three Donahue brothers, who were known as the "iron men". It was sold to Bethlehem Steel in 1906 but continued to use the Union Iron Works name until 1917" There is an entry for a steamship named Cricket. The date seems to be off, however March 1913.
I found a reference to a steamboat Cricket in the NY times Aug 16, 1852. This traveled the Connecticut River.
Another reference to steamboat Cricket in Monmouth County NJ. " Finally, in 1847 the inlet closed for good, blocked by sand collecting around the steamboat Cricket."
There seem to be many references, but none that seem to fit this reference.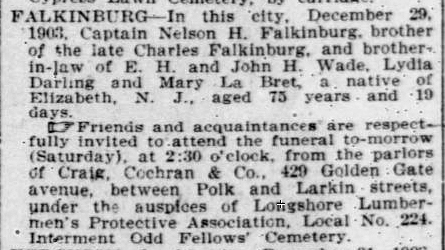 Note that the notice gives the name of Nelson's Brother-in-laws as WADE. Thus, we now know the name of his wife Caroline H. Wade.
The 1867 Great Register lists:
Wade, John Holmes; Age: 22; Nativity: Michigan; Occupation: Caulker Residence: Cor. 6th &Brannan Ward: 9 Date of Registraion: July 18, 1866. This is the brother of Caroline. This is near the residence of Nelson Falkinburg. John is a Caulker--a person who works on ships. We first see that Nelson and Caroline are married in the 1870 census. In the 1880 Census, John H. Wade (age ABT 34) is living with Caroline and Nelson.